When I dropped off Kim at MSP airport to fly back to Asheville, thus began my road trip as I had originally conceived it:  me and El Guapo across the open highway, unfettered, unscheduled, sniffing out America; living out of and sleeping inside of my car.  It was also my first time in Minnesota.  But when I said good-bye, I wasn't filled with excitement, but a bit unsure of my long mysterious road ahead.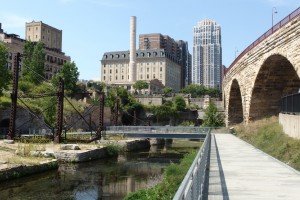 Before actually heading out of the city onto the "open" road, I wanted to see Minneapolis.  I had heard a number of times that it was a really cool city with a lot of park space and active people.  My drive up along West River Drive was indeed impressive.  For miles, nice homes to one side, greenways and bike paths on the other side flanking the Mississippi River.  These trails fed right into downtown and several historic industrial mill sites.  It was a sunny Saturday so the whole city seemed to be out enjoying the day and the recreation resources.
I had decided before the trip that I wanted serendipity and face to face recommendations to guide me along the way.  I didn't want to use Yelp or TripAdvisor to find out what the cool and trendy spots were; I wanted the cities, towns, and people themselves to show me.  But when El Guapo and I were snubbed at an East River row restaurant that had an outdoor patio I assumed would be dog-friendly, I decided to consult the internet.  The website, BringFido.com is a good resource for dog-friendly lodging, restaurants, and activities.  I looked up Minneapolis and one place stood out:  Psycho Suzi's Motor Lounge.  This led me to the Northeast Arts District with a somewhat similar vibe as Asheville's RAD.  Suzi's is a quirky place- on old motor lounge with a deck overlooking the Mississippi.  Thought the place was very busy, the prime seats overlooking the river were empty and plentiful because the sun was so hot, no one wanted to sit there.  I endured it for the sake of the view.  After eating, we headed out of the city through pleasant looking suburbs.
Not only does Minneapolis have a great biking culture, but the whole state seems to be on board.  As I drove north up into lake country, it was impressive to see organized, labeled, and paved bike routes that connected even smaller towns.  I'll have to say that I also noticed this in Indiana, Illinois, & Wisconsin – the prevalence of maintained bike baths in both urban and rural settings.  In Asheville, we certainly have a "bike culture" and a lot of people advocating for developing more greenways, but it's pretty clear we are behind the curve.
Maybe AVL's delay in bike infrastructure is due to our topography making it more difficult.  Or it might be that we're so blessed with outdoor activities on the outskirts of the city that officials didn't see the need to foster it as much inside the city.  But things are changing in a very positive direction and momentum seems to be picking up.  Maybe one day soon, we'll have that Greenway that links my Bent Creek neighborhood with the trail network in RAD / downtown.
All the time leading up to the road trip, one of the things I touted as both convenient and in the character of the trip, was that I could lay down the seats in the back of my Prius such that I could make it a bed and sleep anywhere at random.  But until Minnesota, I had never actually tried it.  Inflating the air mattress and rearranging my things to make room for it were not that difficult, but laying on it in a way that was comfortable for both El Guapo and I took some experimenting and frequent adjustments.  I think the thing that was perhaps most uncomfortable and may have cost me sound sleep, was the constant awareness that I was sleeping in my car in a public area.  At any moment someone could drive up and shine their lights, or even walk up, see my out-of-state plats, and peek in.  The place I found was on a little used pull off on Mille Lacs Lake by Garrison.  It was very private, but that's a bit of a catch 22 – I'm much less likely to bee seen when I pull off at an obscure place, but if I do get visited by anyone in the night, the chances are greater that they're up to no good, or that they think I'm up to no good.
I woke up at sunrise; took a bath in the lake (here's a plug for Dr. Bronner's all-purpose biodegradable soap) and drove to Brainerd.  Brainerd is sort of tourist hub for the surrounding lakes, golf courses, bike routes, and even skiing though I barely saw a hill.  It was a big timber town and has a lot of Paul Bunyan themed tourism.  I ate my fill at the Sawmill Cate's breakfast buffet before heading westward, using back roads and local highways to get to Fargo, ND.
I was only in Minnesota for a day and a half.  I didn't stick around any one place too long, even though my original idea of the trip was to take more time and explore more of the northern lakes and get out my inflatable SUP.  I'd still like to do that one day, but from all the quick scenic rubber-necking I did, I think I'd most enjoy returning to MN with a bike.
Another conceived idea of the road trip that I'm not living up to very well is to mingle and interact with the local people.  I thought with El Guapo as a wing man, I'd be getting myself into lots of fascinating conversations.  But in Minnesota, I don't think I spoke to anyone who wasn't bringing me food.  I guess I need to slow down and allow for it; initiate it myself rather than hope a dog and Midwestern friendliness  does it for me.  Maybe I need to spend less time "blogging" about my experiences as the silent observer, and take time to be part of an experience.