Every year, I try to visit a new country, and this year's selection of Iceland was somewhat of a "bucket list" fulfillment, but like many of my trips as a "scavenger" traveler, the real catalyst was opportunistic convenience and costs.  My busy spring tour season wrapped up, as it does most years, with one of my favorite schools, Carlthorp, and their trip ends in Boston.  Last year when their trip ended, I utilized Boston as a hub to close out my tour season, found a cheap flight to the Balkans, and took a personal expedition of 11 countries in as many days.  This year, I found a cheap flight from Boston to Reykjavik, Iceland on WOW Air.  $368 for a round trip, direct flight, spanning 6 days.  Not bad!
WOW Air is a budget airline that publishes cheap fares, but charges you for any "extra" services such as choosing your seats, or utilizing the overheads for carry-ons, or in-flight drinks/food.  The only thing that is "included" is the space under the seat in front of you for a small backpack.  For me, budget travel and minimalist travel go hand-in-hand, so I readily accepted the challenge of limiting my luggage to the nook at my feet.  I was not deterred by the fact that I would be leading two back to back tours for 10 days leading right up to the Iceland trip that would require additional packing.  I saw it as another opportunity to "retire" some un-needed clothes on that part of the trip.  That's been my pattern of late, I treat my travels like Goodwill donation bins, and come home with less than what I brought.  As for the few clothes I "did" want to keep for the duration of the trips combined, I had a chance to do a quick load of laundry in Boston before my WOW flight left.
Iceland itself proposed some challenges to the budget, minimalist traveler.  Average daytime highs in late May were in the upper 40's and the lows in the lower 40's; and wet and rain are common.  This wasn't a trip to beach where I could just throw in a couple pairs of swimsuits and flip-flops and get by.  I packed my scrunchable down jacket and rain jacket, and would wear them every day as needed.  I packed my running shoes and chacos.  2 pairs of light pants and lights shorts, and other re-wearables completed my bag.  I would have left my laptop behind, but I needed it a good bit during the lead-up tours, so it went with me, adding some weight, but didn't take up much space.
Iceland's biggest challenge to my travel ethics was to my frugality.  Once you get past the inviting airfare, Iceland is notoriously expensive.  I reminded myself, this was not one of my Latin American trips where you can afford to treat yourself well, and fly by the seat of your pants from day to day.  After purchasing the flight, I did some research online, and wisely decided that I should book most of my principal lodging and shuttle services in advance:  KEX hostel bunk in Reykjavik, $40 a night.  5 hour bus to Thorsmark hiking hub, $60.  A bunk in the Basar Hut, $50.  In writing these out, these prices actually don't seem that high, but most of the places I've traveled lately, have cost a quarter to a third of that.  I contented myself in the knowledge that though expensive, I was still traveling "my way" and it was costing a lot less that the way many other people were traveling staying in hotels, and sticking to the packaged tours.
I arrived Reykjavik airport at 6am, and promptly caught a shuttle to town.  It was Saturday, May 28.  I walked around the main streets getting a feel for the place.  Even though nearly everything was closed, I could still tell by signs, décor, and architecture where the main drag was.  I took it as an opportunity to also quietly scout out the prices on menus posted in the windows.  Typical dinners would be $30 and a beer $11.  I expected the city to come to life as the weekend morning gained steam, but by 9 and 10, the city seemed very sedate.  I found a 24-hour convenience store and bought some breakfast items, as well as trail food for when I would go on my hike.  I went to my hostel and learned, I'd need to wait another 4 hours before I could check into my bed.  So I left my bags at reception and headed back out into the town.  I walked around some of the same buildings again, this time showing more life, and even a little sunshine was peeking through the clouds.  I declined going to any of the museums, well because of price, but also because I'm often at some of the best museums in the world, and I quickly get museum fatigue, where I lose interest in what I'm seeing and find myself just going through the motions room after room.  I got some fish and chips (cheaper to go) at a restaurant near the pier, then headed to one of the neighborhood outdoor thermal pools.  Iceland is famous for its hot water pools, and I doubted I would go the the famous and expensive Blue Lagoon, so I set my sights on where the locals go.  Besides that, I hadn't bathed in a few days, due to my overnight flight.  The pool looks just like your local park or rec center pool, except it's all hot water, and there's probably more adults there than kids.  I lounged there for a good bit, then made my way back toward the hostel.
I decided to make an additional stop at the city's flea market which only happens on Saturday.  There a vendor was selling samples of one of Iceland's national dishes: fermented (rotten) shark.  I bought some and the lady told me it's best to taste it first than smell it.  She was right.  I put it in my mouth and while it wasn't that disgusting at first, once I breathed through my nose, the odor from my mouth cavity then filled my nasal cavity, and my nose hairs started to burn and I wanted to spit it out.  I reluctantly, but hastily chewed and swallowed it down and opened my mouth to let fresh air in.  Not wanting to waste my purchase, I ate a few more smaller bits of samples, downing them like a shot of strong liquor – swallowing them fast before the stench and taste could settle in.  I couldn't eat any more, and eventually I threw the rest away.
I had already done some "window" shopping walking around the main commercial streets, so I knew if I wanted to buy any "souvenirs" this flea market would be the place for me.  I have no use for trinkets, mugs, or stuffed puffins or winter garb brandishing the Iceland flag in the tourist shops.  The flea market was selling things that had been worn and lived in, and it was cheaper; though not as cheap as our US thrift store prices.  I wanted to get things that would be of practical use to me on my planned hike into the mountains on over ice fields, so I bought a scarf (that would double as a gift for my girl-friend) and a very un-Iceland beanie hat (it had the face of any angry afro black man on it).  Lastly, I found a serendipitous bargain.  The hostels in Iceland typically charge $10 for linens if you didn't bring your own.  As a budget, minimalist traveler, I had not brought my own sleeping bag.  There in the flea market, a lady was selling light, brand new sleeping bags for the equivalent of $8.  These were by no means quality sleeping bags, but it would serve the purpose of giving me a light weight portable bedding for the duration of my travels, and save me the extra costs for linens.  So I bought one and headed back to the hostel, feeling proud of my clever finds.
Back at the hostel, having completed my hot bath and flea market shopping, I was able to claim my bed and try to get some much needed sleep with an afternoon nap in my new sleeping bag.  I felt like I had "seen and done" as much of Reykjavik as I wanted, but as the evening came around, I felt compelled to go back out and observe a bit of the night life on a Saturday night.  This close to the summer solstice, this far north, the "night life" is barely night at all as it never gets dark.  The bars and restaurants resembled more of a club scene that doesn't appeal to me, particularly traveling alone, and particularly with the drink prices.  But this night also happened to be a big game in the NBA, with my OKC Thunder hosting the Golden State Warriors in a potentially huge upset.  However, in Iceland's time zone, the game was being played from 1am to 3:30am.  But that's sort of peak party hours for young people, so it worked out.  I lingered around walking about till the game started and I found what appeared to be the only sports bar on the main drag, and indeed it was showing the game on all of its screens.  For the price of one beer, that could have have bought me two Asheville beers of superior quality, I watched the game among other shouting American fans.  OKC lost the game, and would go on to lose the series.  I left the bar at 3:30am and it was brighter out than when I had gone in, but the streets were not any less empty.  It was graduation week, and queues of dapper dressed young people were still waiting to get into the preferred venues.
I was able to get in a few hours of sleep before it was time to get up and go catch my shuttle to Thorsmark.  I would be returning to Kex Hostel in a few days, so I decided to lighten my backpacking load by leaving behind my laptop, my Chacos, and some clothes I could do without.  The bus that took us to Thorsmark would have to drive over gravel roads carved through glacial river fields with very few bridges, so it was jacked up on big 4×4 tires.  On the way, it stopped at a few overlooks of waterfalls, volcanic eruptions damage, and one of the other nearby hiking hubs.  It eventually got to the Basar Hut that I had reserved at 1:30pm.  I was very glad to finally be out in the great outdoors of Iceland, and to be in nature of my own devices with the things I'd already brought and purchased to get by, and no need to do any additional shopping.  I used the remainder of the day to do a 6 mile hike on the other side of the glacial river valley.  It took a bit to get orientated to the trails, but I found them well marked and maintained, and extremely scenic.  Thorsmark is known for its trees, but I could hardly call it a forest.  The arctic birches and evergreens grow low, like miniature trees, and even then scarcely, such that most of the time, the trail offers a panorama free of covering canopy, shrub or tree.
One of the things I enjoyed on the bus ride out and doing the hike, is that I was meeting people.  The previous day in Reykjavik, I barely talked to a soul as I wandered the city and in and out of the hostel.  Now, out in the open landscapes, I was meeting people, learning of their travels and plans.  A number of Americans are going to Iceland.  A polish girl was the only other inhabitant in my hut, and I met a German guy who was planning on doing the same trek I was the next day, so we agreed to do it together, especially since much of the trail was still covered in snow, the intermediate huts were closed, and we would have to do the whole 16 mile hike in one day.  It would be good to have a cohort in the effort, and thus we did started at 8am the next morning after I got a much needed long night of sleep.
The trail I researched to hike is the southern terminus of Iceland's popular Laugavegurinn Trail.  I probably would have tried to hike the whole thing (some 40 additional miles) but there is still a lot of snow on the trail and none of the shuttles are running to the northern terminus, nor are any of the huts open that I would utilize for lodging.  So the last leg of the hike, from Thorsmark to Skogar was all that I could do, and even then there were warnings of deep snow blanketing the trail when it crosses between the volcanic summits of Eyjafjalla and Myrdals volcanos.  Though not the full, hike it made for a full day packed with lots of variety.  I was very grateful that the day started off with sunshine and clear skies.  The vistas over the glaciated valleys were spectacular.  The trail hit sort of a rolling plateau where the snow fields began, and it was probably merciful that the sun gave way to clouds here and prevented me from getting sunburned any worse on the white landscape.  While the snow covered the trail, it also conveniently left the footprints of others who had passed by, helping to keep us on the right path.  And it wasn't "fresh" snow, but packed snow with a loose layer for decent traction on top, so it largely held firm and was manageable, though I was wearing my running shoes, that slowly absorbed some of the melting snow onto my feet.  When we crossed over the pass and descended down the valley toward the coast, the trail flanked the Skogar River, and as if flowing down a staircase, it took us by countless waterfalls every 15 minutes or so, each one outshining any in Western NC in both size and grandeur.  We kept up the jaunt down along the river, and the clouds started to drop a light rain on us and for the first time I started to feel cold, and I added layers.  The river's grand finale was the great Skogarfoss Falls where it drops over its final cliff before crossing the agricultural plains into the Atlantic.  It's an impressive sight, and it was both comforting and sad to be at the end of the trail.  My hostel and a hot show and meal were waiting for me, but we had left our remote journey that started without encountering another soul on the trail and landed back into thick of the tourist hordes with their selfie-sticks, being dropped off by interval busloads.
My next day was fairly open.  All I had to do was get back to Reykjavik, and I knew there was a public bus that could take me there in the afternoon.  But when I checked the bus schedule, I found that they had gone to their summer schedule and were running the route twice a day.  That meant I could use it to go further along Iceland's south coast and still return back to Reykjavick in the same day.  I looked at the timing and decided I would go to Jokulsarlon where a massive glacier dumps ice into a big blue lagoon which sculpts them into unique shapes as the melt and drift their way into the Atlantic.  It was a good plan, but here my lack of research showed and I had grossly miscalculated the timing in the cost.  Rather than being a fairly short drive that would cost me $20 round trip, it resulted in me being on the bus route for nearly 10 hours, and spending less than 2 hours at the actual glacier lagoon, and the total tab was more like $135.  I was frustrated with the inefficiency and cost of the day, and that along with the discovery that I had forgotten my charger adapter at the last hostel and with some annoying drivers, and some sea birds that kept dive-bombing my head as I walked near their nesting fields, I was in a sour mood.  Fortunately, the scenery from the bus was excellent, so the ride itself was not a bore, and I know some places I would focus on if I am every to return to Iceland.  Some of the stops en route were long enough that I could get out and look about.  So I saw a lot; but most of it was from a bus window and I didn't get back to Reykjavik Kex Hostel till around midnight.  I don't regret the decision to do it, but if I were to do it again, I would have tried my hand and hitch-hiking there, or near there, as a number of other travelers told me they had done quite easily.
With a new day back in Reykjavik, I could get back on my feet and resume my "efficient" touring and frugal ways!  I had discovered that the hostels in Iceland have a convenient "free" shelf for in the kitchen and in the fridge for the orphan items people leave behind.  I fully admit to being a scavenger with pride.  It is a necessary role in our materialistic world.  Miser, I can also be called, but Free-loader I am not.  I fully expect to carry my own burden and pay my share, but when others, in their excess, have left behind or given away things that they no longer value or need, but which still have potential value to others, it is a service to the world that we scavengers make use of such things.  On this morning in Reykjavik, rather than pay for the $14 continental breakfast the hostel offered, I walked to the nearby convenience store and bought a liter of milk, and some lunch meat and cheese. I helped myself to the Cheerios, hot chocolate, and juice from the free shelf.  I then made sandwiches with the free bread and spread, for lunch/dinner for the day's outing.  When I learned the hostel's own "Golden Circle" tour was sold out, they helped me book one that was even cheaper for the afternoon.
Many tourists to Iceland stay in Reykjavik and the just do the various day tours run by various tour operators directly from the city, utilizing an efficient network of buses collecting people from their various hotels.  The most popular of these is the Golden Circle trip, which runs from 6 – 7 hours.  It's a bit unfortunate that I did it AFTER going into the further interior of Iceland, because I found the tour overall less-impressive.  The Golden Falls were indeed some impressive falls not just the sheer volume, but how the earth has opened up with plate tectonic drift.  But the other falls and crater were mere roadside stops, and the famous Geyser that gave its name to all geysers is dormant, but the nearby ones that are active pale in comparison in both size and color to what I saw in Yellowstone last summer.  Plus it was pretty miserable day wet with rain, I could feel a fresh cold coming on, my off and on sore throat seemed to be getting more sore, and I had an intestinal geyser of my own to contend with.  I was very impressed with the driver guide, who not only gave commentary on the sites, but really did a great job of summarizing all of Iceland's geologic and cultural history in an interesting and clever way.  I told him I was also a tour guide, and gave him my compliments.
Probably Iceland's most famous site is the Blue Lagoon.  When I'd first heard of it, I pictured (thanks to the pictures) a colorful natural thermal pool that gives way to the ocean.  And while that's mostly true, when I heard that the "natural" lagoon is also a highly manicured, resort-like enclosed spa with another big price tag, I figured I would just try to make use of the more natural and local thermal pools on my outer trips.  But my other travels never really afforded that experience, and since I could feel a nasty cold coming on, and lingering congestion in my chest/throat, I decided I should treat myself to the Blue Lagoon on my last day.  I was actually easier and cheaper than I thought.  I was able to switch around my return shuttle to the airport for my 3:30pm flight, to take an early morning shuttle to the Blue Lagoon, spend all morning there, then an afternoon shuttle directly to KEF airport to catch my flight.  So on my last day, I ate my breakfast from the free shelf at the hostel, and paid if forward by leaving behind my sleeping bag with a note that said "Free, used 5 times" and hopped my shuttle to the Lagoon. I'm glad I did it.  The perfect way to spend my last morning.  I had plenty of time there with nothing to do but just lounge around in the warm water.  And when I moved around, squatting neck deep in the water, to the various pools and sections of the lagoon, it was a refreshingly slothful pace.  (On much of my previous touring, I literally ran to fit in the different sites and views I wanted to see/do).  The long soak in the warm water and the silica mud facials and the hot steamy sauna and the massaging waterfall may not have gotten rid of my ailments, but I certainly felt better while I was there.  I had some highs and lows as a budget, minimalist traveler, but mostly, mostly highs and I deserved to pamper myself a little before heading home.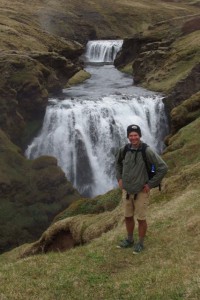 In retrospective, I think I largely used my time well and did a lot.  I would highly recommend for anyone to go to Iceland, especially if you're in a position to take advantage of affordable airfare.  I know Iceland Air often does specials where if you're flying with them to other parts of Europe, you can do a free stopover in Reykjavik.  Although, I would suggest that your stopover be more than just the popular Blue Lagoon (near the airport) and Golden Circle (near Reykjavik).   I did a little research on car rental prices for comparison after the trip, and I think it would save you money to go that route if you are traveling with at least one other person.  I also saw a number of sleeper van type vehicles that a couple people could sleep in.  To me, that would be ideal because it would give you freedom to plan your days, stock up on groceries, and not have drop a lot of money into lodging and restaurant meals https://www.happycampers.is.  Nearly all of the "nature" sites are free to park/enter, with access off the main ring road.  My favorite part was definitely the hike from Thorsmark to Skogar.  Getting to Thorsmark (or Landmannalaugar to hike the whole Laugavegurinn Trail) is not something you could do in a rental, not only because most rentals couldn't handle the rocky road, but also because it's not a loop hike – you'll end miles away from the start, so that part my best done through the shuttle services http://nat.is/travelguideeng/hiking_laugavegur.htm.
Though the expense of things was a bit of killjoy, I enjoyed the challenge it presented to my budget-minimalists ethics, and I feel like I came out on top.  And I had to learn not to take cost of things personal – against Iceland or the person on the other side of the counter.  Prices weren't jacked up beyond normal to take advantage of tourists, they're just high for everyone – locals and tourists alike.  I suppose it's the nature of commerce being on an isolated European island with majestic, but limited natural resources.  As for Icelanders themselves, I did not see a proclivity toward excess and fancy living.  Homes and cars, even in the city, were simple favoring practicality over luxury.  I saw little evidence of their population having a very wealthy class or an impoverished class.  Jobs that we might consider menial labor – bus drivers, servers and sales clerks were not handed off to an under-paid immigrant or minority class.  They all seemed to be healthy-looking, educated locals who played their roles with friendly professionalism.  There seemed to be an air of equality across the island, in both city and rural settings, and I think that is worth the "higher than" price tag.
(To see more of my photos, feel free to visit my Iceland 2016 Facebook Album)