Day 10:  San Juan de Ortega – Burgos:  16.2 miles
Monday,  September 19, 2016:  Departed:  7:15am,  Arrived 1:45pm
Today, we walked a short spell through a forest with some moonlight, as the daylight emerged.  That gave way to fields, then into a few small villages before cresting at Alto Cruciero where a large cross was planted in a pile of stones.  For the last two days, I've been carrying a walking stick.  In preparing for the Camino, I was pretty adamant that I did not want to bring walking poles, even though they were highly recommended by most former pilgrims.  I really like to be hands free and light weight.  I've been progressing well without poles, but the image of the old pilgrim with his walking stick is everywhere in sculpture, murals and silhouettes. So a few days ago, when passing a place where some small trees had recently been cut down, I pulled out a walking stick.  It's more like a wizards staff in size.  I didn't intend to walk with it the whole time; just figured as I found it on the Camino, I'd likewise retire it on the Camino when I became tired of it.  I kept it for two days, and when I reached the hilltop cross, I decided to leave it there.
On the other side of the hill, you could see the city of Burgos around 10 miles away.  The Camino passed through some countryside and villages of little note, among a busy chain of pilgrims on asphalt, and yet this stretch was made special by the background soundtrack on my headphones.  Until then, I hadn't listened to any music or podcasts, and just wanted to devote my senses to the Camino, but this seemed like a good time to "tune in" to some music.  I decided to listen to my "gospel" playlist which contains religious music from old hymns, to black gospel, to camp choruses, to modern arena praise.  A musical collage of my faith background.  While I walked, I was reminded of how the imagery of gospel music is so often one of a journey and carrying burdens, and I was surprised by how moved I was by it.  It made an otherwise mundane stretch of the Camino more alive and special, which I appreciated, especially since the route only got worse as it entered a lengthy industrial suburbs of Burgos, that seemed to never end.  Eventually we made it into old Burgos, and though that ended our Camino walk for the day, the highlights were just beginning.  Kim's parents wanted to gift us with a private hotel room to give us a break from the pilgrim crowds, and so we cashed in, checking into a room overlooking a nice small plaza.  Although at $60 it was hardly splurging!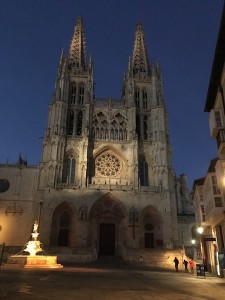 After unloading our stuff in the room, we orientated ourselves to the central plazas and landmarks and stopped at a few tapas bars as our lunch.  While Kim caught up on some things at the hotel, I explored the city more, in particular going to the massive gothic Cathedral, an impressive work of art both inside and out.  In the evening we went back out and revisited all the same plazas as they transitioned from day to night.  We at dinner at a restaurant serving the Pilgrim's menu, and walked around some more.
We both really love Burgos and are very happy that we worked it out to stay a night here, and that we likewise were able to have our own room as a comfy base to get out and explore.  I highly recommend Burgos to anyone visiting Spain.  It may not boast the world-famous sites or museums of other European mega-cities, and you can really see all its sites in a half day, but we liked it for its general vibe and amazing setting.  We'd like to spend more days, not as site-seers, but as local people who just want to hang out and have some affordable drinks and food in some amazingly lovely and historic settings.