The abundance of outdoor recreation opportunities – on foot, on wheels, or on water – was my primary motivation for moving to Asheville years ago.  After having participated in it all the last 15 years as a local, here are some of my recommendations for those who only have a limited amount of time here.
Hiking and Trail Running:
With the abundance of trails and options surrounding Asheville, you'd think it would be hard to pick just one, but if you're only going to do just one, it's actually a pretty easy one for me to recommend.  You can't really beat the Art Loeb Trail to Black Balsam.  It's not just that the trail itself is spectacular with 360 degree panoramas, but there's many options of making it a longer or shorter hike, and the journey to get there on the Blue Ridge Parkway is a beautiful drive with a few waterfall swim holes to hit either on the way there or way back down.  While it's an hour drive to the trailhead from Asheville, plan on much more time than that to make stops at the scenic overlooks on the way.  Consider it an all day outing.  This would be my recommended flow for enjoying the hike and the trip getting there:
Note, that this hike and many others involve scenic drives on the Blue Ridge Parkway.  The Park Service often closes sections of the Parkway, particularly in winter, if weather makes road conditions unsafe at the higher elevations.  Always check their road closure updates online before heading out:  https://www.nps.gov/blri/planyourvisit/roadclosures.htm 
Blue Ridge Parkway / Swim Holes / Art Loeb Trail / Black Balsam day trip:
When the Blue Ridge Parkway crosses the French Broad River at Brevard Road, it climbs steadily towards the highest elevations on its entire route, and passes through its longest tunnels.  There's scenic overlooks / waysides every few miles, but the best ones are after you pass the Mount Pisgah area.  Pick and choose the ones you want to stop at.  The Parkway has milepost markers at the side of the road every mile.
Definitely stop at the Overlook at milepost 417.  It's a good view of Looking Glass Rock, a massive exposed rock face that looks like it belongs in Yosemite rather than Appalachia.  Besides the view, you might notice a lot of vehicles parked there, as it is also the trailhead to a popular swim hole.  "Skinny Dip Falls" and swim hole is about a half mile hike away.  You can try to "skinny dip" if you want, but there's a good chance you'd be doing it in front of a church youth group.  Despite the name, it is actually a very family-friendly "clothed" swim hole, with a jumping off rock about 8 feet above the main falls, with a number of smaller pools cascading down the valley. It can get crowded on summer days, and you might want to forgo a swim here, and save it for an even bigger swim hole and falls upstream as you continue your drive.  Here's the trail map to the falls from the overlook:  https://www.alltrails.com/trail/us/north-carolina/skinny-dip-falls?u=i
Your next stop will be Graveyard Fields near milepost 419.  The stream levels out a bit up here and makes for easy strolls of its looping trails.  This area is especially popular and busy in August when the mountain blueberries are out.  I'd suggest saving your hiking for the higher ridge line to come, and treat this as another short waterfall / swim hole stop.  There is an upper falls and lower falls at opposite ends of Graveyard Fields about 1.5 miles apart, but it's the lower falls that is more impressive, and that has a big swim hole at the base. 
Generally, I like this swim hole better than Skinny Dip Falls, because it's a bigger pool, bigger falls, also has a jumping off rock, and the topography allows for lots of sun to make it through which you'll appreciate to warm you up after a cold plunge.  It does involve a short, non-technical rock scramble to the base of the falls, which might deter some of the crowds from swimming, so it's also generally less crowded than Skinny Dip, even though the hike from the parking is much shorter.  Here's the trail map link:  https://www.alltrails.com/trail/us/north-carolina/second-falls–2?u=i
Finally, you'll drive a little more for your ultimate goal of hiking away from the crowds and cars.  Continue on the parkway and take a right on the turnoff near milepost 420.  At the crest of that road, park where the Art Loeb trail crosses the road, and take it North (right side of road).  It will shortly take you out of the enchanted tree line into wonderful panoramas all along the trail as it climbs.  Prolonged panoramic views like this are a bit rare in the tree-filled blue ridge.  It's a short and relatively easy half mile to Black Balsam summit, which rounds out at 6,200 feet.
You could just turn around here at your high point, but depending your timing and gumption, you could continue on the trail for more summit balds and ridgeline meadows, and make it a longer loop.  The Art Loeb Trail continues all the way to Cold Mountain (8 miles one way) but Cold Mountain is a wooded summit with not much of a view.  The ridge line views do continue over Tennent Mountain and Shining Rock, but beyond that it's mostly under tree canopy.  This would be my recommended loop hike:  Follow the Art Loeb Trail over Black Balsam, Tennent Mountain to Ivestor Gap.  Take the old logging road down to do a loop with Sam Knob.  Here's the trail map, and with a bit of study you can easily find ways to lengthen or shorten the 10 miles:  https://www.alltrails.com/explore/map/black-balsam-tennent-ivestor-gap-sam-knob-5d0d559?u=i
After hiking the Art Loeb over Black Balsam, you might be ready to head home, but if you're up for more, it's only a few more miles drive up the Parkway to Devil's Courthouse which has a nice rocky overlook via a half mile trail.
If you didn't do the Skinny Dip or Graveyard Fields swim holes on the way up to Black Balsam, then consider doing them on the way down, especially if you need to wash off the sweat from a good long hike.  You'll likely have built up an appetite on such an outing, so see the section below title "Bites, Boots, and Beer" for suggestions on how to combine this outing with breakfast before hand, and dinner and a beer after.
Another top recommended hike outing is also a nice drive on the Blue Ridge Parkway, this time going Northbound from Asheville to Mount Mitchell State Park.  It's a great view from the highest point in the Eastern US, but not really a "hike" since there's a big parking lot with a short and wide paved path up to the man-made viewing platform.  So to turn this outing into more of a hiking trip, there's several trails that you can do in this area to take you to more natural, and less visited summits with great views.  First, from that same parking lot on Mitchell, take the Black Mountain Crest Trail north for 1 mile to the rocky summit of Mount Craig which is only slightly lower than Mitchell.  Then on the Blue Ridge Parkway, try to hike at either of these spots:  1) the 2.2 mile section of the Mountains to Sea Trail that runs between Greybeard Overlook and Glassmine Falls Overlook is very scenic.  And 2) the half mile trail from Craggy Dome Overlook up to Craggy Pinnacle is great.  These hikes are enhanced in June with Rhododendron blooming, and mountain blueberries ripening in August.
Dupont State Park is best for Waterfalls, as is Gorges State Park and Panthertown further away in that same direction to the Southwest.  Dupont is also popular with mountain bikers.
Bent Creek Trail system is very popular with local runners, mountain bikers, and dog owners for its quick access from town.  It's great if you just want to get in the woods and be surrounded by trees.  There are no overlooks or waterfalls, just lots of trails to create loops of various lengths.
Montreat is a college and conference center that sits in a valley with a great trail system that climbs up to the ridges above.  The trails up to Greybeard / Walker's Knob and up to Lookout / Rattlesnake summit are the best.  Pairs well with a day trip to the charming town of Black Mountain.
The Appalachian Trail:  The closest access to the AT is on I-26 about 30 minutes north of Asheville at Sam's Gap at the state line with TN.  Like most of the AT, this section of trail is a green tunnel staying under the tree canopy, but if you're up for a longer hike (around 6 miles one way) you can take it north bound to the open vista of Big Bald.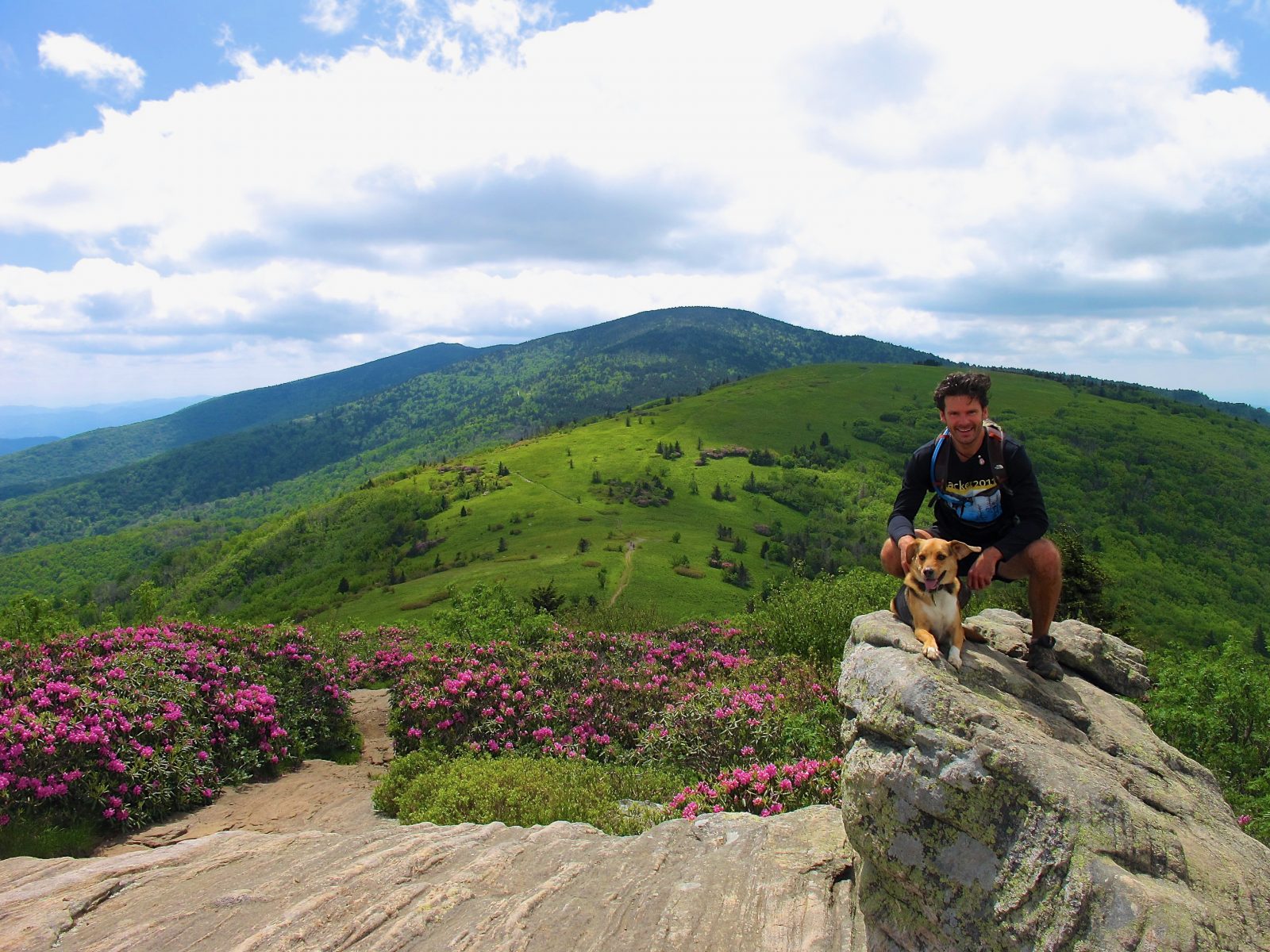 One of the most scenic sections of the entire Appalachian Trail with panoramas over grassy balds is the Roan Highlands:  Round Bald, Jane Bald and Grassy Ridge Bald are especially superb in June's rhododendron blooms.  An out and back to Little and Big Hump makes for a long trail run, or great overnight backpacking trip.  It's a 2 hour drive one way to the Carver's Gap trail head from Asheville, so it requires being strategic with your time.
Floating the French Broad River:
A popular experience is to float the French Broad River through town.  Unless there's an unusually heavy rain, the French Broad has gentle currents and you can even stand up in many places.  No motor boats are on the French Broad as there are shallow rocks in many places. PDF's are not needed unless you're a non-swimmer or really young.  We locals are typically DIY and shuttle our vehicles to from the take out spot to the put in spot with our own tubes, kayaks or SUP's.  And we always pack beverages and snacks of choice.  If you don't have your own resources for such on your Asheville visit, there are several outfitters that can rent tubes or SUPs and/or shuttle you to your put in.  Check out French Broad Outfitters or Zen Tubing.
Nearly everyone takes out near the River Arts District, so the question is how far away do you want to start upstream.  The shortest is to put in somewhere along Carrier Park on Amboy Road for a 1 to 2 mile float.  A good place to start is Hominy Creek Park, which is about a 3 mile float. 
A favorite is to float the river through Biltmore Estate – put in at Bent Creek Park, and take out at Hominy Creek for a 6 mile float (or just keep going into Asheville for an extra long float – particularly if you're not in something with a paddle to speed things up.  There is very little development along Biltmore's stretch of the river, and you can even see the mansion from the river above.  Just be aware that Biltmore owns both sides of the river for this entire stretch and there is no bail out option along the way, so you need to be committed for the long haul.
The non-profit River Link has a good river map showing access points and amenities, and in summer months, you can check water quality here.  While the French Broad has made great improvements through local efforts to greatly reduce industrial contamination, it still has contaminants, largely as a result of agricultural run-off after heavy rains, so you may want to avoid full immersion in the water during those times.
Bites, Boots and Beer
Here are recommended "combo" outings for enjoying food and a beer along with a hike when taking a half day or full day excursion outside of Asheville.  All of these contain a good spot to get breakfast or lunch on your way to the hike itself, then a good place to eat and/or get a beer after the hike on your way back to Asheville.
 Blue Ridge Parkway South:  Art Loeb Trail / Black Balsam (highlighted above). 
Pre-hike Breakfast/Lunch:  Moose Cafe by the WNC Farmers Market. (like a Cracker Barrell)  
Post Hike Dinner:  Papa's & Beer on Brevard Road (Tex-Mex).  Why are so many vehicles parked in the corner of a strip mall parking lot by a defunct K-mart?  Papa's & Beer is the reason.

Brewery: Wedge Brewery in River Arts District
Day trip to Black Mountain and Montreat (East of Asheville)
Breakfast/Lunch:  Louise's Kitchen
Hike:  From Montreat to Greybeard Summit, with spur to Walker's Knob, or Lookout/Rattlesnake Mountain

Dinner:  Trailhead Restaurant & Bar
Brewery:  Lookout Brewery or Pisgah Brewery on the way back to Asheville.
Brevard & Dupont State Park
Breakfast/Lunch: Blue Ridge Bakery in Brevard
Hike: Trail upstream to Triple Falls & High Falls, downstream to Hooker Falls
Dinner:  Magpie Meat & Three in Brevard
Brewery:  (Local) Blue Ghost Brewery / (Touristy, yet impressive) Sierra Nevada
Blue Ridge Parkway North / Mount Mitchell (highlighted above)
Breakfast/Lunch:  Filo Pastries & Coffee, or if it is open you can even eat at the State Park cafe near Mitchell.  Nothing special about the food, but a great setting.

Post Hike: Highland Brewery with Food Trucks on site.
Waynesville to the West / Blue Ridge Parkway:
Breakfast/Lunch:  Biscuit Head in West Asheville
Hike:  Waterrock Knob, with spur trail to Browning Knob with wreckage from an old airplane crash.
Post Hike Dinner and Beer:  Boojum Brewery & Restaurant in downtown Waynesville
Alternate Brewery:  Frog Level in Waynesville