Day 1:  Saint Jean, Pied du Port  – Roncesvalles:  15.6 miles
Saturday, Sept. 10, 2016:  Left at 7:45am, Arrived at 3:00pm
We heard before the trip that this first day crossing the Pyrenees would be the hardest – a long and steep climb from the French side to the Spanish side.  This we looked forward to because it also meant that the bulk of the trail was through open nature, rather than passing through towns with busy highways nearby.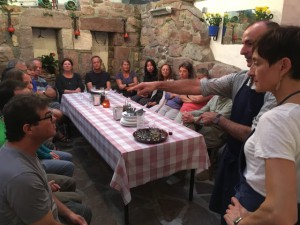 But before I get into our first day on the Camino, I should start with the night before.   We stayed at an albergue (pilgrim guest house) called Belari (meaning "pilgrim" in Basque).  One of the reasons we chose this place is not only because it was recommended, but on their website it says that they do a pilgrim dinner, and if you are not interested in the dinner, but only the bed, then they suggested you should look elsewhere – meaning the fellowship around meals is part of the Camino experience and they want all Pilgrims who are starting their journey to get off in the rights spirit.  There were 20 of us staying there.  We all introduced ourselves and where we were from in a little game.  In our group there were a few other Americans, Canadians, Dutch, Korean, Australian, and Portugese.  We all also briefly shared our intentions.  Most of them were middle-aged and several of them were walking the Camino to initiate their retirement and what to do next.  There were two father-son tandems.  There were several married couples and a few singles.  A few of them had walked all or part of the Camino previously.  I greatly enjoyed hearing everyone's motivations for the Camino and it reminded me that while we were all on a public journey that an average of 400 people start every day, every individual is on a private journey and has a compelling story.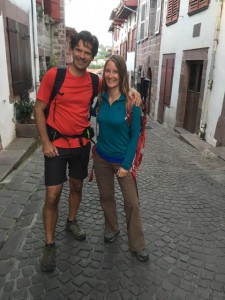 These intentions and our subsequent conversation over dinner put us all in good spirits and company for our start the next morning; however, once Kim and I got into our groove among the hordes on the Camino, we promptly lost sight of their faces, ever mingling among new ones.
Though there was much fellowship the night before, the actual "walking" of the Camino is comparatively quiet.  There are groups of friends, and always people passing or being passed, focused on the journey at hand, and so many of them, that most of the time, we didn't bother to acknowledge one another with a Bon Jour or Buenos Dias.  I imagine much of the conversations and fellowships happens at the lodging and rest stops and meals.
The weather today was nearly perfect, after having clouds and rain the previous two days, we were happy to see clear skies and watch a lovely sunrise as we ascended the hills outside of Saint Jean.  The Camino on this stretch is a mix of paved and dirt country roads that climb the mountain sides.  The surrounding hillsides are mostly pastoral, cleared of trees and brush by grazing sheep herds, with a few stands of trees here and there.  The day of gave us sun, and a few misty clouds, but fortunately the heat was not extreme as we climbed up to higher elevation.  We stopped a few times on the way up to tape up some blisters that were starting to form, trying to get on top of them early before they become problems, but for the most part we moved quick and comfortably and found the day not that difficult, considering how rewarding the scenery was around.  We ate our packed lunches at the high pass near Col de Lepoeder, overlooking our destination below, mapping out with our eyes our route for the rest of the day and the next.  Descending the Camino here, the trail stayed under a canopy of enchanted forests, dropping us off at Albergue Colegiate with makes up the roadside town of Rocensvalles.
This old church / monastery, converted to an Albergue is pretty much the only place in town and has bunks for hundreds of Pilgrims.  So many pilgrims stay here at the end of the long day that it has a bit of an assembly line feel.  Queue up to register after leaving your packs on the floor.  Put your smelly shoes in the shoe room before going up to your dorm, which has long corridor of cubicle bunks similar to a train's sleeping car.  Buy a dinner and breakfast ticket to eat during you allotted time slot.  Queue up for the shower and washing clothes and put your wets out on the clothes line.  Lights out at 10am for everyone, and everyone must wake up at 6am!  There's limited wi-fi, so you better go to sleep, rather than checking college football scores or facebook back home.  I think I rather like it.  At the end of a long hike, there's kind of a liberation to having decisions made for you, and being told to go to bed and get up early.  We ate the pilgrim's dinner with some folks from Australia, which brought us right up to curfew, and so we promptly went to bed at 10pm.
After posting my first introductory blog of the Camino, which was done amid a few urgent work emails, while scrambling with the access to wifi that was about to shut down at curfew, I was very eager to put my computer away and get on with being "present" on the Camino.  However, when we got checked in to the albergue and showered at the end of the first day, I was a bit surprised to find myself twiddling my thumbs with little to do before our scheduled dinner.  I decided to take advantage of the time do some reading and continuing the writing of this blog.  I actually plan to write every day, to summarize each day, because I know if I don't write it down while the memories are fresh, the days will start jumbling together.  I may not post every day, and I'll probably still wait till it's all done before I try to cast great meaning from it, but I do think at the end of each day, it will be a healthy exercise to briefly summarize it.